Standalone VR Headsets
Powering the future - VR headsets for every application.
---
Phone VR Headsets
Phone dependent VR experiences.
---
Virtual Reality Gaming is at the forefront of a new gaming revolution. Players can insert themselves directly into the game, utilizing special stereoscopic headsets and custom controllers, enjoying first-hand everything the game has to offer. Some virtual reality setups, such as the HTC Vive, utilizing whole-room tracking technology, calculating player positions using a serious of "lighthouses". Other solutions, such as the Oculus Rift, focus more on a "sit down" style of VR experiences, utilizing mainstream controllers, as well as keyboard and mouse, to navigate areas.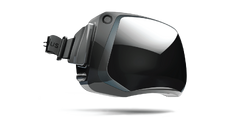 Virtual Reality is no longer limited to the PC, however! With new devices like the
Playstation VR
, virtual reality has come to consoles as well - with competition like the
Xbox VR
rumored to be just around the corner! And for mobile gamers, solutions abound -
Samsung Gear VR
,
Google Cardboard
, and
Google Daydream
are all mobile solutions being developed by their respective developers to allow mobile gamers true virtual reality experiences.